Irian Jaya - Penis sheats, grass skirts and armies of fleas
In the early 90's my girlfriend and I visited most of Indonesia during our 18-month holiday in India and South East Asia. Somehow we were looking for something completely different and finally decided to go to Irian Jaya and do a trekking tour in the Baliem Valley. So we flew to Jayapura a.k.a. Hollandia, the capital of the province. Those days Wamena, the biggest town in the valley, was accessible only by Merpati flight. When we arrived in Wamena it came as a shock. We felt like we had been time-warped back into the stone age. Naked men with penis sheaths (koteka) roamed around the market, topless Papua women in grass skirts. The town lies at an altitude of around 5200 feet and can be quite cold at night. The night sky was one of the most spectacular I've seen in my entire life. After two days in Wamena we decided to do a two day trekking tour to Karubaga, together with Dutchman and his sister. We were introduced to a Papua guy named Kipenus and hired him and a few porters for the trek. Easy going, we were told.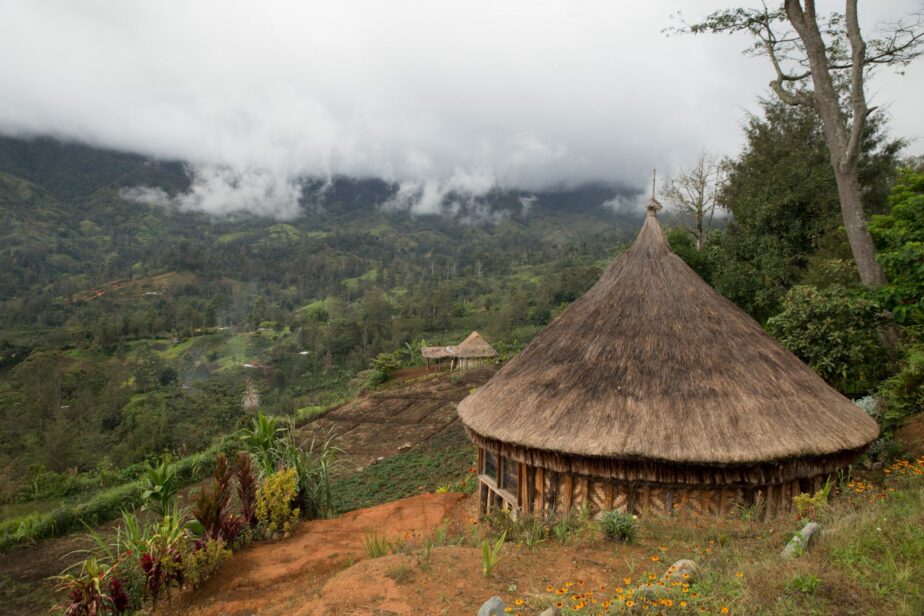 However, on the first day of our trek, after some hours of trekking we met a Papua teacher who told us that there was a festival going on in his home village. Of course we didn't want to miss it and so we confided in the man and made a considerable detour. The first night we slept in a teacher's wooden house in a village on the way. The floor was hard but it was okay. The next day we arrived at our destination. A new church (most of the Papuas are Christians) was being built. Various tribes from the neighbourhood brought building material and came to celebrate this big occasion. The festival was truly spectacular with dances and singing. However, there came a time when we wanted to sleep. But only the local huts made of wood and straw were available. So we had to bite the bullet – and I can tell you it was no fun. These huts have a diameter of about five metres. A fire burns in the centre and there is no proper smoke outlet because the smoke is supposed to keep unwanted pests away. Which it doesn't. Around the fireplace there are a few stones which separate it from the straw with which the floor is padded. After all, you want your home to be cosy, dontcha?
We unrolled our sleeping bags and made ourselves comfy. I could hardly sleep at night: rats were running over my legs and the later it got the more itchy it got.
In the morning we were covered in fleabites: one count yielded 40 flea bites – on one arm! It was terrible. My girlfriend suffered even more. In the morning we tried to remove them from our clothing and sleeping bags while the Papuas were standing around us, making jokes about these hypersensitive foreigners.
But never mind, the festival had been great and in the evening we would be in Karubaga where there was a guest house. We started hiking and  occasionally we had a good view of the highest mountain on the island, Puncak Jaya, formerly known as Carstenszspitze. We trekked far apart from each other and sometimes even lost sight of each other. After a few hours we crossed a mountain pass covered in fog. Suddenly, I was all alone in the jungle! I called my companions as loud as I could, but no reply. I was standing in the middle of nowhere here and slowly started to worry. Apparently my loud shouting went unheard! I continued walking along the path and after a quarter of an hour one of the porters found me. It took a load off my mind! We walked on and the closer the evening came, the more beautiful Karubaga became in my imagination! On the trek we passed many burned-out huts, these things are definitely not fireproof… And finally the bad news: Our guide informed us that we could not reach our destination today and that we would have to spend another night in one of those dumps again. It sucked, but what could we do? And so we spent another night in a Papua hut. I couldn't close my eyes and constantly watched the fire because I absolutely didn't feel like being incinerated here at the anus mundi. We survived that night too and reached Karubaga around noon. We spent the rest of the day checking our clothes for fleas. We hunted down no fewer than thirty-five! With a lot of luck we got a plane to Wamena two days later and avoided the arduous walk back. I'm not sure if I would have survived that … The flight back in a Piper Cherokee was quite an experience! We arrived in time to catch our flight back to Jayapura.