About Freddie Aguilar and Bob Dylan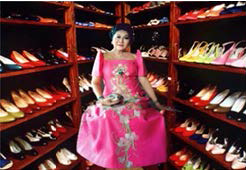 The Philippines were one of the least popular destinations on the hippie trail. Maybe because the country is the least 'Asian looking' of all. When I arrived there for the first time in the early 80s it gave me the impression that a piece of South America had broken away from Latin America and landed on the other side of the Pacific Ocean. The reason for this is most probably that it was ruled by Spain for 350 years. And then became a U.S. colony for another 50. An interesting mixture. It is probably the most dangerous country in South East Asia because everybody seems to own a gun … Two German friends of mine were murdered in Puerto Galera (Mindoro Island) following a minor dispute with locals.
However, it's a beautiful country but I have to admit that I didn't make it beyond the islands of Luzon and Mindoro. My favourite destinations in Manila were:
The Malacanang Palace museum with Imelda Marcos' impressive shoe collection
Intramuros, the historic walled city in Manila and the
Chinese cemetery that looked like a gated community with luxurious villas
Outside the capital of course the rice terraces and the caves around Sagada were my favourites
Freddie Aguilar is probably the most famous Filipino singer. Even outside the archipelago, he has many fans. His world hit Anak (Child) is the hymn of a prodigal son to his parents. The singer's personal life causes a lot of excitement in his home country. Especially when, at an advanced age (sixty!) he married a 16-year-old girl. That might not have been so spectacular as it was if the bride hadn't been a Muslim. So the devout Christian had to take the name Abdul Farid. In contrast to Cat Stevens a.k.a. Yusuf Islam, however, rather involuntarily. But what did he tell a German friend? "What can I do, Robert, I'm in love!!".
He is the role model for countless musicians in the country. Nowhere in Southeast Asia you'll find as many of them as in the sprawling archipelago. At home (I remember a very lively scene in Olongapo when the Navy Base Subic Bay was still in US hands) and abroad in the hotels of South East Asia and elsewhere they make a good living with their – mostly plastic – music. I once saw Freddie performing in a bar in Ermita. All weapons had to be handed in at the cloakroom. I found a comment by P. J. O'Rourke on the singer most interesting: '… Freddie Aguilar, who's billed as the Bob Dylan of the Philippines. This is unfair, since he's good-looking, plays the guitar well, can carry a tune, and writes songs that make sense.' Funny, isn't it?